Saturday, October 18, 2008
Recently I tried to explain these steps but found it's so difficult to explain in words so I thought I'd show with ss's.
Usually a mask and tubes are on separate layers, but in this case, I didn't add a layer before adding my cloud tubes and the clouds are directly on the mask layer.
It worked out fine, because I didn't want the mask outside the frame anyway.lol.
But here is how I removed all the outside stuff and left only the tubes inside the frame.
My steps to this point were, new transparent image.
I flood filled with white.
New layer flood filled with yellow, and applied a mask.
Applied auto cloud tubes and copy & pasted my mouse tubes on as a new layer.
This is what it looks like: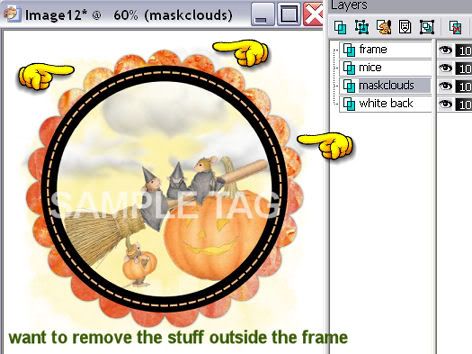 I want to remove everything outside the frame.
So here are the steps to achieve that result.
Highlight the frame layer.
Using your magic wand, click inside the frame.
Ants will be marching inside the frame area.
Go to selections
--MODIFY--EXPAND by 3
SELECTIONS---INVERT---
Highlight the maskcloud layer
HIT DELETE key on your keyboard.
Everything outside the frame will be removed.
Select none.
Here's the finished image.
:o)Hope this helps if you ever find yourself needing to delete stuff.
Labels:
Tutorials