Thursday, August 28, 2008
This tut will show you how to add an animated text to an animation.
Open your PSP and Animation Shop.
In Animation Shop, open the animation you want text added.
Count the frames on that animation, because that is how many frames your animated Text must have to be inserted in the animation.
You can do this by making the text with all the frames, or by making the text with half the frames and duplicating them in Animation shop to make the full set of frames.
You will be using both programs together.
First make your glitter text in PSP.
For a reminder how to do that click the link below.
Adding Glitter to Text
The animation I will be adding text to has 4 frames.
I will be making 4 layers of sparkled text in PSP and taking it over to Animation Shop to animate.
For a reminder how to add sparkles click the link below.
Adding Sparkles
Ok so we have our text over in animation Shop and we have our animation that we want to add text to open in animation shop.
Now let's add the animated text to the animation.
Click on the first frame of your animated Text.
Click EDIT..SELECT ALL..
Click EDIT..COPY
Over to the animation to add text.
Make sure you have the first frame of that animation activated.
Click EDIT..... SELECT ALL....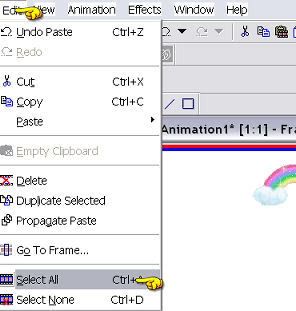 Click EDIT...PASTE INTO SELECTED FRAME.
Put your cursor on the FIRST FRAME of the animation.The text will be attached to your cursor.
When you have the text placed where you want it, left click your mouse and the text will drop into place.
Your animated text should now appear in all frames of the animation.
Crop if needed, view animation, and if you're happy with it, save as a .gif.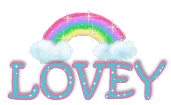 **Note**Some animations don't have room to add text, so you will have to create a new animation prior to adding the text.
Click below and look at the bottom section of that tutorial.
Adding Text to Animation
Labels:
Tutorials
|
0 comments