Monday, July 04, 2011
This was written using PSP 9 and Animation Shop 3.
It will work with other versions of PSP.
I have written this tut to help those that are not familiar with using .mng ani's in Animation Shop.
Unlike .gif and pspimage ani's that can be copy and pasted into tags, .mng require a dragging.
This tut will show you how to drag.
This is not a finished tag project,it's a teaching technique tutorial.
Lets get the toolbar set up in animation shop. Make sure you have the toolbar open in AS.
You'll see lil papers icon.
That is propagate paste tool. I use this a lot to drag over names etc... into finished projects.
To learn more about prop paste you can read a tut I wrote a few yrs ago
HERE
Open AS and make sure you have view-toolbar open.

Open the ani you'd like to use in your tag.
Copy and paste your tag from PSP over to Animation Shop
I am using an animation I made, "bubbles".
Step 1.
Duplicate the frame in your tag to match the same amount of frames in your animation.
Step 2.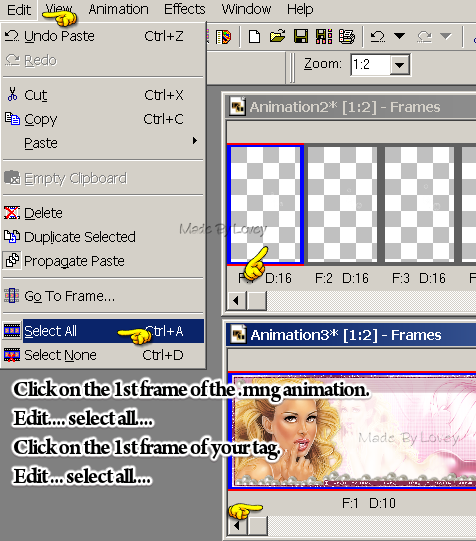 Step 3.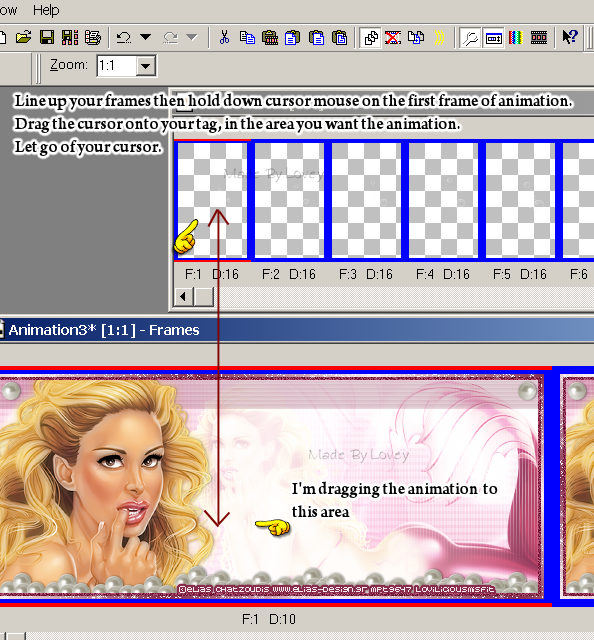 Step 4.If you don't like where the animation is place, undo, and re-drag.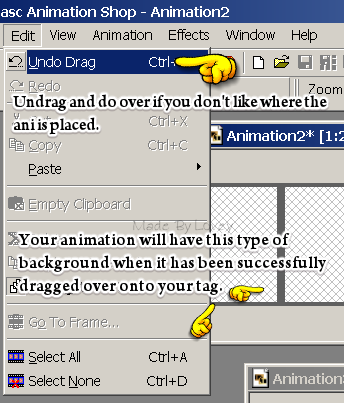 Step 5.
Easy once you get use to the technique!
Hope you find this tut helpful.
Tut written by Lovey'11 July 4th 2011
This tut was also Posted in Creative Misfits.
Any resemblance to any other tut is purely coincidence.
Happy PSPing!!

Labels:
Tutorials